Filleigh Village Hall

Registered Charity No. 1081659
Filleigh Village Hall, Filleigh, Barnstaple, Devon, EX32 0RS, UK.
Filleigh Village Hall has been awarded HALLMARK

by The Community Council of Devon.
The Filleigh Memorial Stones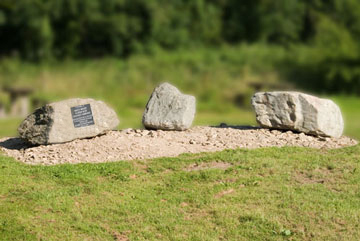 The 3 Memorial Stones at Stags Head
Many people remember the Lynmouth Flood on 15th August 1952. Not everyone knows that tragedy also struck in Filleigh.
Although most of the deaths and damage happened in Lynmouth, it was not only the East and West Lyn rivers which flooded but also the rivers Barle, Exe and Bray, as all five rivers have their sources very close together on Exmoor, in an area known as 'The Chains'.
After a period of heavy rain, in which approx 6 inches of rain fell in two weeks, a further 10 inches fell over a 24-hour period starting early morning on the 15th of August.
A group of scouts from Manchester was camping at Shallowford and in the resulting flood 3 of them were drowned.
They were:

Derek Breddy aged 11
Harold Shaw aged 14
Geoffrey Robinson aged 11
At the 50th Anniversary service of the Lynmouth Disaster in 2002 Roger Watts, chairman of Filleigh Parish Council, together with Lady Margaret Fortescue and Alan Bulled happened to meet the brother of Harold Shaw, one of the scouts who died. He afterwards sent down the photograph of Harold which now hangs in the Committee Room in the Village Hall.
It was later suggested by Tanya Hussell that a permanent Memorial to the 3 scouts should be erected, here in Filleigh. Permission was given by Lady Arran to place this Memorial in the picnic area at Stag's Head, near the old Filleigh Sawmill.
Lynmouth Town Council donated 3 stones from the beach and Roger Watts oversaw, with the help of Alan Bulled and others, the removal and transportation of the stones back to Filleigh, where they were placed on a bed of stones from the river Bray .

Money has been given towards the cost of this project by the
North Devon and West Somerset Disaster Relief Fund
and The Lynmouth Flood Memorial Hall Management Committee.
There was a dedication ceremony at the picnic area on August 28th 2006 at which the plaque was unveiled by Lady Margaret Fortescue.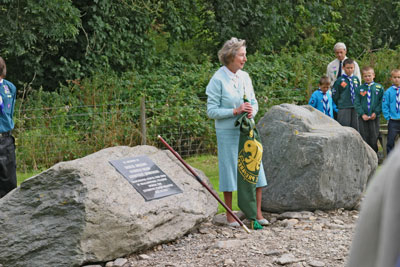 It was a very moving afternoon and we hope this was a fitting tribute, especially for the friends and relations of these three young Scouts who came down from Manchester.


Click here to see some more photographs and here to read a personal account of that night.

| | | | | |
| --- | --- | --- | --- | --- |
| | The Boys' grave in Manchester | | 'Gone Home' | |