Filleigh Village Hall

Registered Charity No. 1081659
Filleigh Village Hall, Filleigh, Barnstaple, Devon, EX32 0RS, UK.
Filleigh Village Hall has been awarded HALLMARK

by The Community Council of Devon.
Filleigh Hall News and Diary

FILLEIGH PARISH COUNCIL
Next Meeting
TO BE HELD
At
Filleigh Village Hall
(socially distanced in the car park)

ON
Tuesday 30 March 2021
At 7.30 pm
If members of the public have items to raise they are invited to contact the Clerk on 01598760324 or e mail westheddon@btinternet.com so that the details can be circulated to the councillors to study.
For more information see
www.filleighvillagehall.org.uk/FilleighParishCouncil.htm
****************************************************
Coronavirus community support - help us spread the word
From North Devon Council
We are hearing reports that some of our elderly and vulnerable residents are still going going out shopping and we want them to know help is available so they don't put themselves at risk.
We have been working with town and parish councils, voluntary and community groups, and local businesses to help us collate a record of the community help available to our residents during the coronavirus (COVID-19) pandemic. You can find all of this information on the Communities and voluntary sector support pages of our website and we are updating this on an ongoing basis. Please use this resource and spread the word among your friends and family to do the same.
If you know about any community or voluntary activities that are not already listed on our website please email us at communities@northdevon.gov.uk
To receive regular coronavirus email bulletins from us you can sign up on our website. These updates will keep you informed about how our services are changing due to the outbreak, as well as the latest advice and guidance gathered from trusted, official sources.
You can also sign up to receive email updates from Devon County Council, including how coronavirus is impacting their services, at devon.cc/connectme. Information is available too on the coronavirus page on their website.
*****************************
The Northern Devon Voluntary Service (NDVS) have compiled some information on their website to provide guidance to groups on supporting volunteers, advice for volunteers, telephone befriending and safeguarding. There are also links to guidance on handling money and funding opportunities.
A link to the NDVS website is now available on North Devon Councilís webpages and a new section has now been created specifically to provide Support for Volunteers and Groups.
https://www.northdevon.gov.uk/coronavirus/communities-and-voluntary-sector-support/support-for-groups-and-volunteers/
***************************
North Devon Council has launched a new community support hub to ensure the most vulnerable residents are not forgotten during the Coronavirus pandemic.
A new dedicated phoneline and online form are now available to those who need support who haven't already got help from family, friends, neighbours and their local community.
The service will vary according to where people live but will typically see the co-ordination of grocery shopping, prescription collections and social contact. In the major towns and villages, NDC will work alongside health and wellbeing partners One Northern Devon who have a network of volunteers on a street by street level. In the more rural areas, the Council will be working in partnership with parishes and other community groups set up to support people during the crisis.
We are asking that the public check that their local neighbours are getting support and if they are worried about them, then contact the support hub who can make enquiries.
The number to call is 01271 388280 and further information is available on the North Devon Councilís website by clicking on the link below:
https://www.northdevon.gov.uk/coronavirus/communities-and-voluntary-sector-support/
FILLEIGH PARISH COUNCIL
Meeting
TO BE HELD
AT
FILLEIGH VILLAGE HALL
ON
AT 7.30 PM
ALL WELCOME
for more details see
www.filleighvillagehall.org.uk/FilleighParishCouncil.htm
**********************************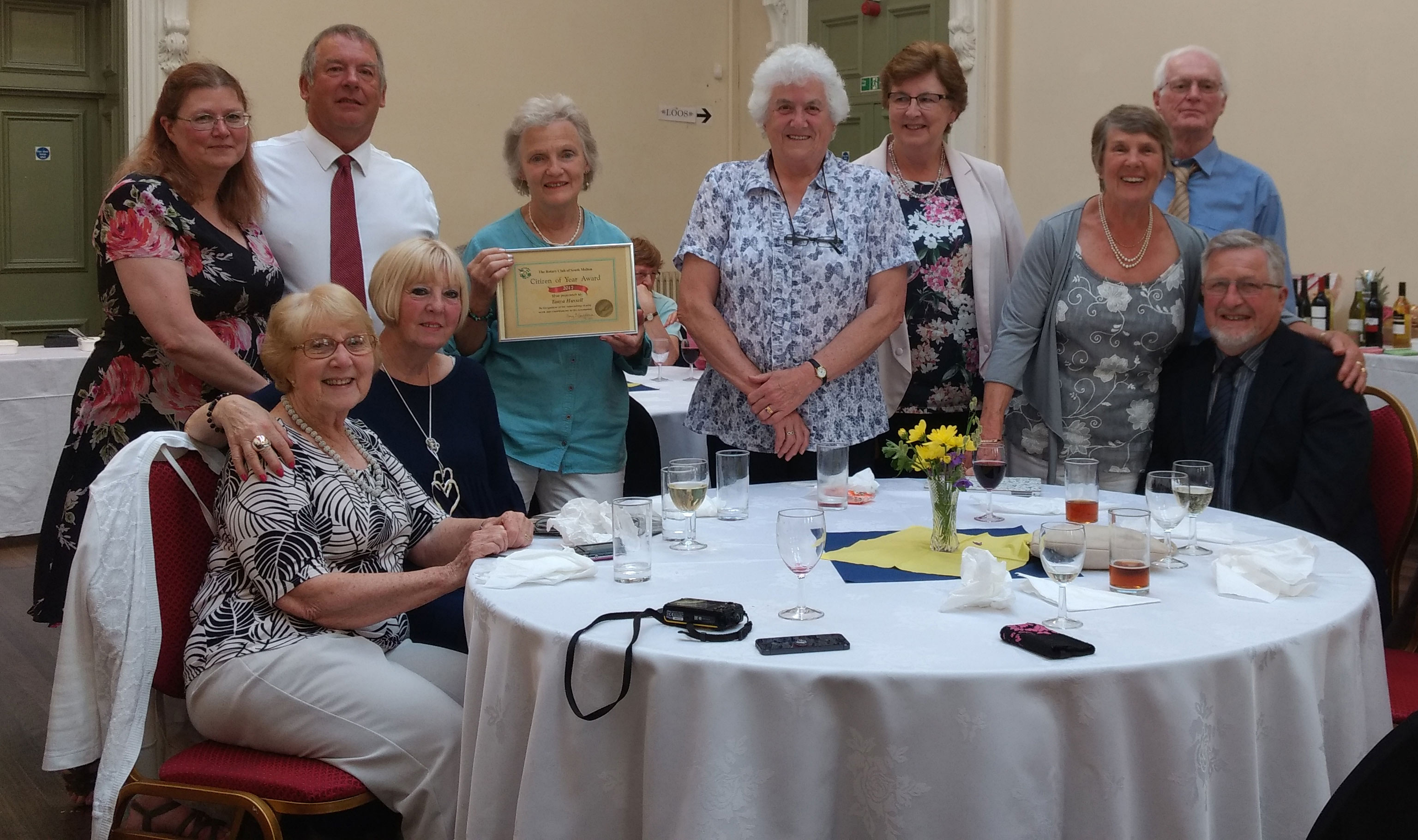 We were very proud to be able to be see Tanya Hussell receive her Citizen of the Year Award from the South Molton
Rotary.
**********************************
The end of January saw the first in a series of themed "Secret Suppers", held at the hall in order to raise funds for the new extention. If this is a sign of things to come seats for future meals will bemuch sought after. Thanks must go to Tanya, Carole and Julia for cooking and serving the meal, also to Marie and John fot their assistance.
For details of future events please contact Tanya Hussell on 01598 760332 or t.hussell.filleigh@btinternet.com

**********************************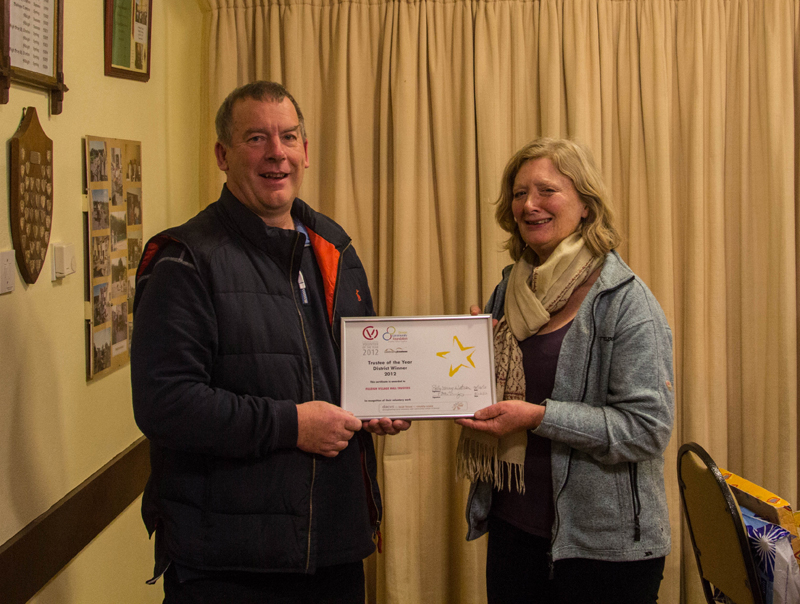 Richard Maxwell receiving a certificate from Pat Diango on behalf of the trustees of Filleigh Village Hall. Pat is from NDVS and came to present the DACVS 'Trustees of the Year Award 2012', for which they won the Distict award. Read more here.
Solar Photovoltaic Cells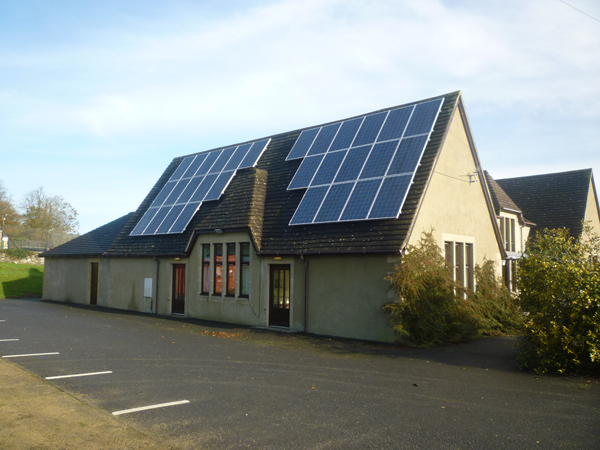 We have had 30 photovoltaic cells recently fitted to the hall. These were fitted by a local firm Earth Elements www.earthelements.co.uk and are part of our 'Green Dream' to cut down our use of non renewable resources. In the future we hope to install an air-source heat pump to reduce our oil usage for heating.

The Hall mural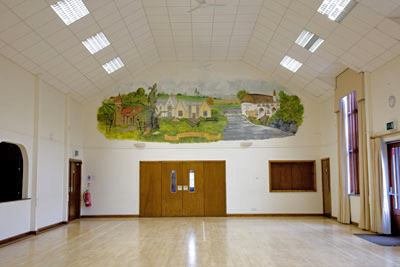 We commissioned a local artist Vic Bailey together with Geoff Boucher to paint a mural on the large wall above the doors leading from the main hall into the meeting room. We wanted the mural to represent the main features of Filleigh. We are very pleased with the result and it adds a focal point to the hall.
The Filleigh Memorial Stones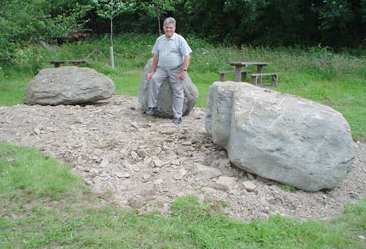 Click here for more details of the Memorial Stones
Filleigh History Group
The Filleigh History Group meet every 4th Wednesday.
For details please contact Norman Richards tel. 01769 572683
or Tanya Hussell tel. 01598 760332.
Short Mat Bowls
Come and try this new sport for our hall. If you decide to join, there will be an annual membership fee of £5.00 each. This includes the official Rule Book and an occasional newsletter. There is a charge of £1.50 per evening, which will include tea/coffee and biscuits and use of the Village Hall Bowls. To safeguard our new mats, ordinary footwear or socks will not be allowed and proper bowling shoes must be used at all times. We will be able, on a temporary basis, to provide special overshoes (at a small charge of 20p). The minimum age will be 10 years and children must be accompanied by an adult at all times. If you would just like to have a game of pool rather than play bowls then the pool table is available for use on the same evening. The same charge of £1.50 per person will apply.

Ballroom Dance Classes
Come and take the opportunity to learning Ballroom Dancing. These classes are held every Wednesday night in the hall. 7.00 - 8.00 pm. for beginners followed by a class for improvers from 8.00 - 9.00 pm.
So if you want to keep fit and have fun - come and Dance the Night Away. If you want to learn or just brush up on your dancing skills then come and join Judy on Wednesday nights. Phone 01769 572384 or 01271 325800 for more details.
If Ballroom dancing is not for you then try Modern Sequence Dancing - same time, same place, same contacts but on a Tuesday night.
Old Photographs
If anyone comes across any old photographs of Filleigh and the surrounding area or any other items of interest please contact Beryl Morgan (01769 579948) , so that she can record and add them to the collection. With luck we hope to get a grant to enable us to safely store the collection so that it can be put on regular display.
The Secrets of Castle Hill
During August 2003 there was the very first opportunity to see and purchase the book 'The Secrets of Castle Hill' which was written by the members of Filleigh History Club and contains amongst other gems many, previously unpublished, drawings and pictures of Castle Hill. The book will be sold in aid of North Devon Hospice and other local charitable organisations. Copies can be obtained by post at the price of £3.40. Telephone 01769 579948 . For further details of the book.