Filleigh Village Hall

Registered Charity No. 1081659
Filleigh Village Hall, Filleigh, Barnstaple, Devon, EX32 0RS, UK.
Filleigh Village Hall has been awarded HALLMARK

by The Community Council of Devon.
View larger images by clicking the links below
The Hall Facilities
The hall was built in 1997 and is lucky to have a very large, well lit carpark so there is plenty of safe parking. The main entrance is flat, accessable for wheelchairs and from the foyer there is access to the main hall, meeting room and toilets, including a disabled toilet which also has babychanging facilities. Up to 200 people can be seated for a meal. The floor of the main hall is semi-sprung, which makes it suitable for dancing and indoor sports. There is a hearing loop fitted to the main hall and the meeting room. All rooms have under floor heating which is thermostatically controlled. During 2022 the hall has undergone some modernisation with the decor and the lighting. The lights have been changed to dimmerble LEDs, which gives hirers the ability to change the ambience for weddings and dances. There are double doors at the side of the hall which open onto a covered patio, where there are picnic tables looking over fields. This also has the space for a marquee if needed for larger weddings etc.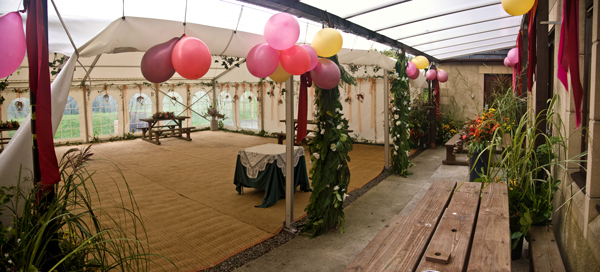 The main hall can also be used for Badminton as there is a court marked out and again the semi-sprung floor and high roof is ideal for this use.
There is a meeting room adjacent to the entrance foyer, but also has its own entrance, if needed. This room can be opened up to be used with the main hall or used on its own.
In 2020 the Weston room was added as an additional space at the far end of the hall. This can be used in conjunction to the main hall, for large events or as a seperate room altogether, as it has its own entrance, kitchen and toilet. The Weston room also has a skittle alley. The room size fits inbetween the large hall and the small meeting room and is ideal for training purposes or parties.
There is a large well planned kitchen which has plenty of work space and china/cutlery for 200. It has three cookers, one large commercial and two domestic cookers, which can easily cope with larger functions. There is also a large fridge, separate freezer, a microwave and a water heater to provide hot water for refreshments. There is also a commercial dishwasher so even the largest of functions can cope with the drudgery of washing up with ease! The kitchen also has it's own separate entrance so cateres can unload.
Hire Charges for the Hall
There are three sessions available:-
Morning am - 1pm
Afternoon 1pm - 6pm
Evenings 6pm onwards
Main Hall £60, Meeting Room £30, Weston Room £45
Generous discount available for Filleigh Parishoners, Charities and repeat Bookings.
Events with a licensed bar are required to pay a premium of £25.
A premium will apply for full kitchen use, this will be dependant on the expected number of people being catered for.
All party bookings will be asked to pay a returnable 'no damage and good order' bond of £100-£200, dependant on numbers expected.